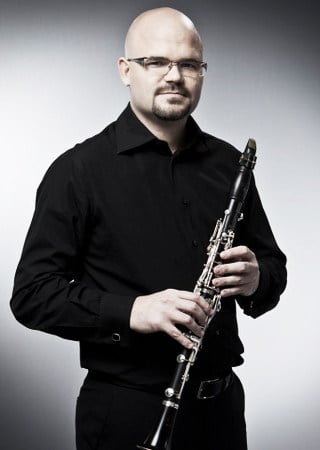 TADEJ KENIG (Slovenia), solo clarinetist of the SNG Opera and Ballet in Ljubljana and docent at the Academy of Music, University of Ljubljana is one of the most successful musicians of today. He graduated in the class of Slavko Goričar at the Academy of Music in Ljubljana, post graduated with honors – Solistendiplom at the Hochschule für Musik der Stadt Basel in the class of Francois Benda.
He has received many first prizes both at domestic and international competitions. He was the absolute winner of the competition "Marco Fiorindo" in Torino (Italy), in the category "selezione clarinetto solista".
His concert activity includes both concerts in Slovenia, as well as concerts in the rest of Europe, Asia and the US, as a soloist and chamber musician, as well as with orchestras: Slovenian Philharmonic, the Symphony Orchestra Basel, the Chamber Orchestra of Bratislava, SNG Opera and Ballet of Ljubljana and the Cantus Ensemble. He has worked with the following conductors: Marko Letonja, Stefan Saderling, Otmar Maga, Loris Voltolini, Berislav Šipuš… He is a member of the woodwind quintet ARTvento.
He has participated in many international festivals of contemporary music: Biennale Zagreb (Croatia), Electromediaworks Athens (Greece), S.O.U.N.D (Scotland)… At these festivals he worked with soloists and conductors such as Feliks Rengo, Sergio Acolin, Heinz Holliger, Richard Craig, Roberto Fabrićijani, Rohan de Saram, Christopher Penderecki, Heneberger Jirga, Vitenbah Jirga, Adam Scott Neal, Robert Scott Thompson, Pit Stoler and others.
His discography includes the following editions: "Dialogue de l`ombre double" – 2007, Cantus d.o.o. Zagreb HDS; "Molly Brallaghan, Quintet ARTvento and friends" – 2008, Whoopee Records, Germany; "Vivid Air" – 2010, Aucourant Records, US; "Alojz Ajdič – Skladbe za klarinet" – 2010, KD ADRIARS, Slovenia; "Pihalni kvintet ARTvento – skladbe slovenskih skladateljev" – 2011, KD ADRIARS, Slovenia; "Pushing Forward" – 2011, KD ADRIARS, Slovenia, 2012, Aucourant Records, US.
He has held a number of master classes in Ljubljana, Berlin, Basel (Musikakademie der stadt Basel), Lugano (Conservatorio della Svizzera Italiana), at the University of Aberdeen, the Center of Excellence in Varazdin, Pula (Arena International, University of Trieste)…
The rich career of Tadej Kenig is regularly followed by brilliant critique of both domestic and foreign media.